Heritage Open Day - 11th September 2021

HERITAGE OPEN DAY
Saturday 11 September 2021: Open 11:00 - 15:00
The Grange Centre, The Grange, Rectory Lane, Little Bookham, Leatherhead, Surrey, KT23 4DZ
This email address is being protected from spambots. You need JavaScript enabled to view it.
Tickets:
Pre-booking: Preferred
To visit our Heritage Room, or take part in our interactive trail, please book a slot via email.
Email: 
This email address is being protected from spambots. You need JavaScript enabled to view it.


Go to: https://www.grangecentre.org.uk/events/
Booking opens: 1 June 2021
Booking closes: 9 September 2021
---
The Grange is a charity based in Bookham that provides support and accommodation for people with learning disabilities. The charity has been running since the 1920s and was initially set up as 'The School of Stitchery and Lace' to provide needlework training for women with disabilities. Consequently, we have a unique collection of lace and embroidery, as well as lots of wonderful stories to tell! We hope that this year's Heritage Open Day will be our chance to celebrate these stories once again, and finally open The Grange back up to the public after the crazy year we've all had.
Welcome to England's largest festival of history and culture! Attend a Heritage Open Day. Information about this one.
Every September thousands of volunteers across England organise events to celebrate our fantastic history and culture. It's your chance to see hidden places and try out new experiences – all of which are FREE to explore. This email address is being protected from spambots. You need JavaScript enabled to view it.
Access : Fully accessible
COVID-19 Considerations: This event will run in line with local & national government guidelines at the time of the festival.
Surrey Brass Quintet permits performance of highly varied repertoire whilst keeping everyone safe both in the audience and on stage and this event will feature a programme of light and popular music that everyone will enjoy. Surrey Brass will be playing periodically during the event to entertain visitors.
 A COVID-Safe Concert: please respect the prevailing guidance for the benefit of all. 
Take a moment to treat yourself to cream teas and cake at our 'Simply Scones' pop up event.
The Grange Centre is in Rectory Lane, a turning off the A246 (opposite Dobbes Nursery). Please follow the signs for parking.
We hope you can join us. Book your ticket today. All Welcome.
---
---
Concert Programme
The concert features an innovative and entertaining programme of music, appealing to all ages and tastes. Popular and favourite musical material will be reprised from previous Brass Quintet concerts, and as always the programme will include music we have rarely performed before too - there is always something fresh at our concerts! In between musical numbers, members of the quintet give short talks about various subjects including brass instruments, composers, and the programme to illustrate the music in more detail.
If you would like to suggest a favourite piece for this concert, please Contact us! Examples of some of the music follows - but we may also play something else.
Lighter Brass

Olympic Theme
Leo Arnaud arr. Adrian Wagner
"Out Of Africa" Theme
John Barry arr. Adrian Wagner
Three Brass Grooves - "Balloon Ride", "Heartland", ""Surfside"
John Wasson
"Frere Jaques"
Trad. French arr. John Iveson
"Stardust"
Hoagy Carmichael and Mitchell Parrish arr. Jack Gale
"You Raise Me Up"
Brendan Graham and Rolf Lovland arr. Diego Marani
"Ain't Misbehavin'"
Fats Waller arr. Lee Norris
Performers
| | | | |
| --- | --- | --- | --- |
| Trumpet | Horn | Trombone | Tuba |
| | | | |
---
Sponsor Surrey Brass
Supporting us costs you nothing apart from a few clicks every time you shop online. Click on the image to learn more.
---
 Surrey Brass offers a sponsorship opportunity.

Do you love films?

Do you love the the theatre?

Or just love the fantastic sound of brass?

Support the performance of a blockbuster programme of music from Stage and Screen this Autumn. 
Surrey Brass is delighted to be back performing and rehearsing
after probably the longest silence in live performance in human history. 
To celebrate the return to performing, this Autumn we aim to present a major concert of popular music featuring popular music from smash hit films and stage shows and perform it in at least one major venue in Surrey. Creating shows like this means a lot more than just turning up and playing. Due to our long absence, our reserves are depleted.
Join the Surrey Brass appeal to help us continue our mission of bringing innovative and entertaining concerts to the people of Surrey.
If you are a potential sponsor, or can help us find one please Contact us.
Does your employer has a Corporate Social Responsibility programme?
A desire to support the Arts?
Please Contact us.
Join Our Mailing List
for occasional reminders about the Surrey Brass concert programme - and come to a concert!
Support Surrey Brass
Make a Donation
If you have a little time to spare and could help us with our appeal, please Contact us.
To give you some insight into what is involved: 
We need to develop the musical programme and that means buying sheet music, and sometimes paying an arranger or composer to create something special for us.
We must rehearse the programme and pay for hall hire and related expenses to do so.
Venue hire, our professional Conductor fees, hire of percussion instruments, and the fees for professionals who play them, form the bulk of the expenses.
We pay Performing Rights royalties to support the composers of the music we perform.
Other expenses include poster, programme and ticket design and printing, often several hundred pounds for a large venue.
If we invite a soloist, or need to pay for deputies, costs mount even more
Prices are rising post-COVID: typically it costs up to £2000 to put on a concert in a large venue, and unless we are lucky enough to achieve significant ticket sales, it is rare that Box Office income is sufficient to cover costs. Throughout our twenty year existence, Surrey Brass has never had routine financial support, and as an organisation of only a dozen regular players, the ability of our members to raise funds is very limited indeed. Although every year we perform concerts to raise funds for charitable causes, Surrey Brass is not a Registered Charity so cannot benefit from advantages this status attracts. 

      Back Playing At Last !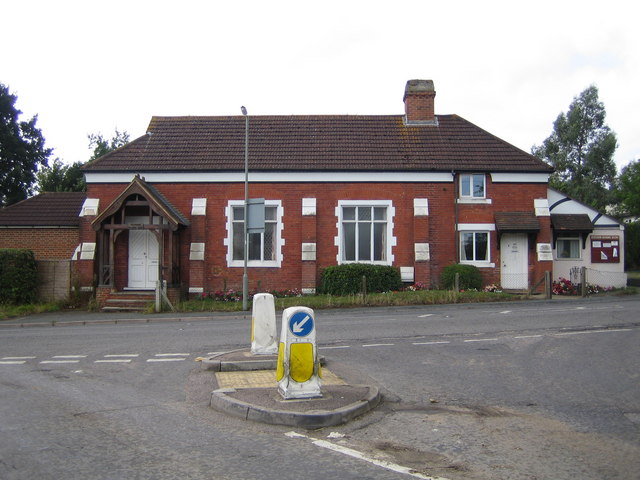 After a very happy and productive 20 years rehearsing in Reeds School, Cobham, Surrey Brass has resumed playing post-covid in a new venue, the Fetcham Reading Room. The restrictions on educational establishments very sadly made it too difficult for us to continue rehearsing in the home we have enjoyed since we started, so after a great deal of hunting we discovered this little gem of a rehearsal space which suits us perfectly. The acoustics in the Reading Room are excellent, something our fellow brass players at the Mole Valley Silver Band know only too well since they too have been rehearsing here for over 50 years! 
We will forever remain grateful for the generous support of Reeds School and hope to continue our cordial relationship with them in future. We are also grateful to our good friends Egham Band who kindly offered their own excellent Band Hall to Surrey Brass.
This panoramic view from the conductor's podium was taken by our conductor Robin Smith showing just how socially distanced we were at our first rehearsal!
The Reading Room was built in 1885, to enable workers in the parish to meet and socialise - "educated ladies" of the village were in attendance, to read newspapers and letters to those workers who were unable to read for themselves. Today, it is used by local groups for a variety of regular activities, including ballroom dancing, band practice, painting, pilates, table-tennis and yoga.
The Reading Room is operated by Fetcham United Charities which is responsible for the provision of Almshouse accommodation, providing ten flats for people and meeting a vital social need in the area. Surrey Brass is delighted to be supporting the Charity in our small way.
Surrey Brass Rehearsals take place on Wednesday evenings - our schedule is still variable until restrictions are finally lifted - and visitors are most welcome to sit in. Contact us if you would like to join us so we can ensure everyone remains COVID-safe.
Story date 11 June 2021
---